I WASN'T GOING TO BLOG ABOUT CHICAGO'S CRAZY WEATHER THIS YEAR BUT, COME ON NOW CHICAGO, SERIOUSLY? WTF! This is my happy blog and I have nothing to laugh about, its not funny. Mother Nature needs a Midol.
In case you haven't heard about it, let me fill you in. During the last few seasons, Chicago has been experiencing record breaking everything.
Of course, the SNAKES in my suburban backyard are loving it
and are bigger than ever this year.
I'm sick of the extremes in Chicago's weather this year!
This winter wasn't just snow, it was RECORD BREAKING SNOW.
2 feet of snow fell in Chicago on 2/2/11....
Literally.
Lake Shore Drive, downtown Chicago, 2/2/11
We even had a thing called "THUNDER SNOW" this year. It's thunder and lightening, in the winter, during a blizzard. I'm 45 and have NEVER even heard of anything like it. Jim Cantore from the Weather Channel caught it on tape while he was on Michigan Avenue covering the approaching blizzard.
There was NO SPRING in Chicago this year, just a few extra months of winter and COLD ASS RAIN. There was even a chance of SNOW during the Cubs home opener in March:
Tuesday, March 29, 2011
An Ugly Cubs' Opener?
I'm not predicting the play of the Chicago Cubs or the Pittsburgh Pirates by any means here! This is strictly about the weather and how it could impact the game. On Friday, the Cubs and Pirates open the 2011 season at Wrigley Field at 2:20pm. At the very best, the weather looks chilly for this time of year with highs only in the 40s.
At worst, snow could dust the baseball diamond
!
We're watching an Alberta-clipper that will dive into the U.S. and toward northern Illinois on Friday with some rain and snow. The computer models suggest we'll be cold enough for snow Thursday night when the system starts to move into the area. It also appears cold enough for snow on Friday afternoon, but with the high April sun angle and the timing of this low in question, we have a rain/snow mix in the forecast for now.
Stay tuned... this could be a rotten opening game weather-wise!
Then summer finally came, but with near constant 100+ DEGREE HEAT index's more days than I care to remember and its not over yet, it's only August 1st!
Many of the storms came with RECORD BREAKING RAINFALL, WIND AND POWER OUTAGES as well. Not once, not twice, but "the storm of the season" seems to have hit Chicago about 10 times this summer. We lost power during 5 different big storms and had to get a generator and fill it with gasoline every hour for days. And we were some of the lucky ones. Some of my friends didn't have generators and their basements flooded, more than once this summer.
Chicago storms break single-day rainfall record
July 23, 2011 (CHICAGO) —
The overnight storms that hit the Chicago area have broken the city's record for most rainfall in a single day.
The National Weather Service says 6.86 inches have fallen at Chicago O'Hare International Airport since 1 a.m. Saturday.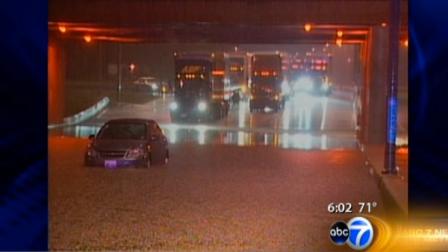 That's the biggest single-day rainfall since records began in 1871. The previous record was 6.64 inches that fell on Sept. 13, 2008.
Meteorologist Richard Castro says additional rain before midnight on Saturday could break the record for largest rainfall in Chicago in a 24-hour period. That record stands at 9.25 inches from Aug. 13-14, 1987.
The overnight storm closed several flooded expressways, ramps and roads. Several thousand utility customers have also lost power. (
July 23, 2011
I find myself blogging about the Chicago weather because it feels like a swamp outside ONCE AGAIN today. It reminds me of a news story I heard a few months ago that said Chicago will become more swamp-like over time. I didn't pay that much attention to it, assuming they were talking about 100 years from now.
Obviously they meant Chicago would be more swamp like
in 100 days.
It's going to be like going on a trip to the rain forest for people that want to travel to Chicago. I can hear the travel agents now, "Oh, you want to travel to Chicago? Well then, yo
u'll need a series of shots. Let's start with the one for malaria..."
Will air boat rides replace the Windella Boat rides
on the Chicago River?
While the boaters take pictures of the
Alligators along the new River walk?
I guess I am going to write a post complaining about
the Chicago weather after all. Hey Mother Nature,
save a few Midol's for me.